Estes Park 33rd Annual Rotary Duck Race
DUCKS, DUCKS, DUCKS
Estes Valley Investment in Childhood Success is asking you to Adopt a Duck and participate in the 33rd Annual Estes Park Rotary Duck Race Festival on Saturday, May 1, 2021. You can adopt your Duck or Ducks at www.epduckrace.org/charities-organizations/.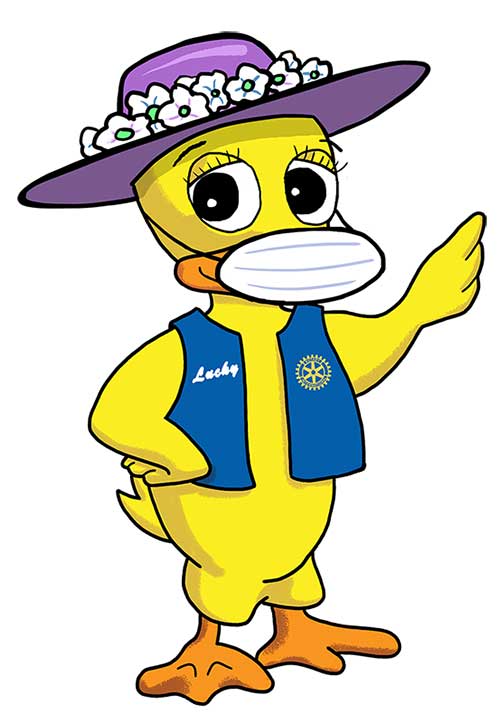 **Due to COVID-19 pandemic, the 2021 Race will be not be selling merchandise on Race Day. The Race will be held virtually, broadcasted from the Estes Park Recreation Center's Lazy River.**
Duck Adoptions are an amazingly great way to support Estes Valley Investment in Childhood Success. Duck Adoptions are $22 each, with $19 going directly to EVICS for Childcare Scholarships. To further your competitive nature and see how many ducks you can adopt, a 6-Duck Quack Pack can be adopted for $110—adopt 5 Ducks and get 1 Duck free!
The race will start at 1:00pm, streaming live from the Estes Park Community Center's Lazy River. You may want to tune in earlier to enjoy some of the festivities happening before the race.

With each Duck, you will have a chance to be the winner of a vacation package to Glacier or Yellowstone National Park or one of three cash prizes of $5,000, $2,500 or $1,000. Your Adopted Duck/Ducks can also win one of hundreds of other great prizes from local businesses. Winners will be listed after 5:00pm on www.epduckrace.org.

_________________________________________________________________________________________
Thursday Evening Community Programming Hosted By EVICS
First Thursday: Ask EVICS (6:00 pm and 7:00 pm)
*Parent Resource information night. EVICS will facilitate an open Q&A for the entire Estes Valley Community. Please come with questions to ask EVICS staff. EVICS staff can help answer questions or direct you to the correct local resource. Again this is open to the whole community (Estes Park, Allenspark, Pinewood Springs, Glen Haven), so please attend via ZOOM to get those large or small questions answered!
Second Thursday: Family Night (5:30-6:30 pm)
Family Night is every Second Thursday of each month. April's Family night will have Stacy our Mental Health Consultant Discussing – secure (parent/child) attachment relationships and providing a good foundation for children's success.
If you are thinking about attending, please register in advance to make sure that we have the correct number of meal vouchers and activity items to give to participants.
When you register for April 8th, you will receive:
Zoom Link or Zoom Call in Number
Voucher for local restaurant (voucher must be picked up by Wednesday if you have registered and received an email or call back)
Information form Stacy (Family Night Discussion Activity/Pertinent Information)
Associated Play Activity
April 8th, 2021 – Register Here By:
Email: Sending and email to – eberryhill@evics.org (with the following information)
Adults in attendance: (Let me know hw many will be attending)
Children in attendance: (Let me know how many children will be in attendance)
Phone/Email: (Pease share for EVICS Parent Contact)
*****After this information is sent to Erin Berryhill (eberryhill@evics.org), a ZOOM link will be sent out along with an email letting you know when to pick up your Food Voucher and Activity Item.
Third Thursday: Childcare and Preschool Providers' Networking Night (6:00-7:30 pm)
Fourth Thursday: Mothers' Group (7:00 pm)
Visit us on Facebook for more information.
_________________________________________________________________________________________
DEVELOPMENTAL SCREENINGS
Developmental Screenings for children ages 1 month to 72 months available through EVICS! Please call 970-586-3055.
Thank you all for helping us stay strong in our communities by keeping social distancing in the next weeks when possible and following the CDC's guidelines. The EVICS office will be open for limited hours to attend to our families in need Monday, Tuesday and Thursday 10am-6pm and Wednesday , Friday 10am-2pm. The staff will work from home outside of these hours so feel free to reach out to us via email or phone. EVICS is here to support you! Please don't hesitate to reach out for questions or concerns. We are working with the community to share available resources in town to our families and friends.
Stay well and healthy!
EVICS wants to meet the diverse needs of every family in the Estes Valley Community. At our programs and events, our Bilingual Parent Educator is often present. If you would like translated documents or services at any EVICS programs, please contact us.