Choosing childcare is difficult! EVICS is here to help.
EVICS does not regulate, screen, or refer childcare providers in Estes Park, but does provide resource list for families. Below is a list of licensed childcare providers and preschool programs in the Estes Valley.  Visit our child care scholarship page to find more information regarding child care tuition assistance for licensed providers.
If your children are ages 0-5 years and currently attend a school or care facility, be sure to look for the Colorado Shines rating. We encourage families to visit and compare programs to determine the best fit for your child and family.
Childcare is regulated by the Office of Early Childhood. Statewide childcare referals are provided by the Division of Early Care and Learning at 1-800-799-5876 or visit their website. To check provider records for complaints or licensing violations, check the Colorado Office of Early Childhood.




Preschool and Childcare Centers
Pre-K Teacher: Elizabeth Sanders
(970) 586-7406
Estes Park Elementary School 1505 Brodie Ave, Estes Park CO
Estes Park Elementary School (EPES) Preschool provides a safe and supportive learning environment where children can grow and develop at their own pace, and their own unique way. We appreciate and accept the level of maturity and ability exhibited by each child. Children learn to respect and value each other's cultures and talents, as well as to understand and support one another's special needs. Play activities encourage each child to explore, experiment, and to expand their critical thinking and problem solving skills.
Ages: 3-5
Tuesday-Friday, Half Day Only: 8:10-11:10 am or 12:10-3:10 pm
Colorado Preschool Program scholarships available for students with special needs.
Director: Christy DeLorme
1250 Woodstock Dr, Estes Park CO
970-586-6489
Mountain Top provides a safe and nurturing environment that promotes the physical, social, emotional, and cognitive development of young children while responding to the needs of their families.We expose children to the areas of dramatic play, music and movement, science, art, health and safety, cooking, literacy, math, and cultural diversity. We also understand that while it is important to develop school readiness skills, the young child's ability to flourish first and foremost depends on meeting their physical, social, and emotional needs.
Ages 2 1/2- 12 years
Monday-Friday 7am-5:30pm
Mountain Top has expanded its services to provide high quality child care at a second location called: Mountain Top at Bennett
Director: Christy DeLorme
65 Caring Lane YMCA of the Rockies
2515 Tunnel Rd, Estes Park CO
970-586-3341 (ext 1137)
Director: Nancy Johnson
541 Lone Pine Dr, Estes Park CO
970-586-9864
LLEV provides a community outreach offering an interdenominational Christian-based program for all families. This outreach includes providing tuition assistance to enable families of all income levels to participate in early childhood experience. The goal of the curriculum is to foster social, intellectual, physical, and spiritual growth. Our mission is to help children develop a love of learning through play and exploring the world around them.
Ages 2 1/2- 5 years
Monday through Friday 8:30 am- 11:15 am OR 12:00- 2:45 pm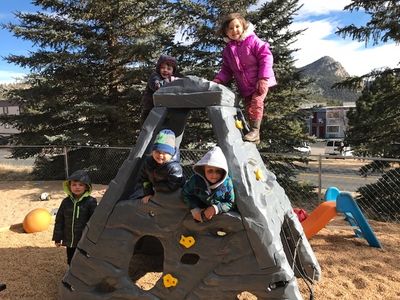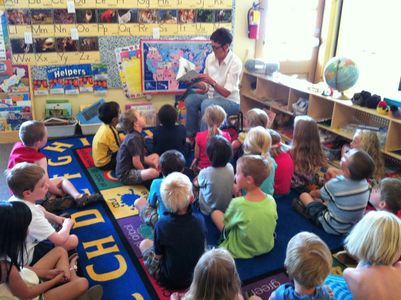 Licensed At Home Childcare Providers
Country Kids Child Care
Provider: Jodi Rasmussen
970-586-4484
Country Kids Child Care is located on McGregor Ranch property. The kids get the priviledge of having cows, chickens, and horses right in their backyard! Jodi participates in local activities including swim lessons and story time at the Estes Valley Library.
Ages infant-13 years
Monday through Friday 8:00am-4:30pm (half day option)
Provider: Redd Palace
970-586-0944
Rudolf Steiner inspire program, where "toys" offered to the children are made of natural materials and are simple enough to allow room for a child's imagination to be active. Young children love to work with their hands, so we work together on many different types of projects, such as baking, painting, and modeling with beeswax and clay. Singing, circle games, plays and puppetry give each child a chance to experience what it is like to take turns and be a part of a group, while quiet activities like nature study and listening to folk and fairy tales provide a period of rest within our busy day. All imagination starts with play so everything we do is play based and fun. Children discover a love of learning and friendships that will follow them throughout their lives.
Ages 1-7 years
Monday through Friday 8am-4:30pm
Rose's Child Care
Provider: Lori Rose
970-586-9110
Lori offers child care from her home for infants up through school-age children. Flexible care schedule offers parents weekend and evening options. Two qualified adult providers offer care at Rose's Child Care.
Ages infant-13 years
7 days a week, flexible hours
The Rainbow Kids
Provider: Veronica Rojas
970-577-0951
Veronica offers bilingual (Spanish/English) environment and unstructured preschool activities.
Ages 6 months through 12 years old
Tuesday through Saturday 8am-5pm
Unlicensed At Home Child Care Providers
The Happy Kid's Club
Provider: Maricruz Ortiz
970-685-2816
Maricruz offers bilingual (Spanish/English) environment.
Ages infant-12 years
Tuesday- Sunday 7am-5pm